MOOD by Christofle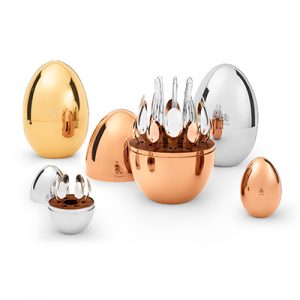 Christofle shakes up the classic codes of table setting with a new concept that's right in step with the times.
A decorative piece with a compact shape, MOOD By Christofle is a streamlined, contemporary and universal statement, in a silver-plated service for six.
MOOD By Christofle brings to the table the promise of conviviality and moments to remember.
Christofle, the Maison that stands for excellence in silversmithing, offers in MOOD By Christofle an avant-garde vision of relaxed entertaining that remains both elegant and refined.
KARL LAGERFELD has designed a limited edition of the Christofle "MOOD" with just 500 exclusive pieces available worldwide
Christofle and KARL LAGERFELD collaborated to make an exclusive KARL LAGERFELD edition of the MOOD flatware set and decorative case.
Inspired by Art Deco art and architecture, KARL LAGERFELD's design features structured, graphic lines on the elliptical egg shape, which enhances the contrast of geometry.
The MOOD opens to reveal a 24-piece set of silver-plated flatware, and each piece is stamped with the KARL LAGERFELD silhouette logo.
MOOD Coffee is a set of six silver-plated espresso spoons, to accompany moments of conviviality with friends.
Like MOOD by Christofle, MOOD Coffee is accompanied by MOOD Coffee Precious, a copper-colored version with espresso spoons gilded with 18-carat pink gold.
Thanks to its timeless and contemporary design, MOOD Coffee is the perfect gift for a new and daring way of
daily luxury living.
Christofle is taking a place at the modern epicurean's summer table surprising us yet again with the delicate, leather-corseted MOOD NOMADE — perfect for chic, impromptu picnics. A pleasure to carry along anywhere, it can be complemented with a complete tableware collection.
This ensemble brings an elegant, relaxed touch to a laid-back outdoor brunch among friends or an intimate dinner under the stars.
With MOOD NOMADE, Christofle offers a new, harmonious piece that combines the strength of metal with the feminine softness of leather.
An example of exceptional know-how and a style that marks its era.