Drawing Inspiration from Art de la Table
Vlasis Kosmas
Inviting friends, family members, and colleagues for home dining is always an important event that plays a big part in most cultures. No matter the occasion, we always seek to impress our guests by creating a warm and joyous atmosphere.
Whether these gatherings are for lunch or dinner, we tend to spend a plentiful of our time sitting around the table, hence why it is important to take great care not only of each and every course, but also of the decoration and setting of our table.
If you are looking to steal the show next time you invite people over, then look no further, and find all the inspiration you need in the French philosophy of Art de la Table. Art de la Table is an unmistakable way to help you transform every home gathering into an unforgettable experience, by adding a personal touch to every occasion.
Art de la Table's roots and purpose
As the term suggests, Art de la Table has its roots in France, where it first came to conception. Dating back to the 15th century, it continues to evolve ever since. The purpose of Art de la Table is to initiate hosts into the principles of proper table setting, thus letting their creativity soar and allowing them to showcase their personality. The way in which hosts decide to set the table creates and dictates the guests' mood, and creates a sense of harmony that lies in the overall atmosphere.
Plates: guiding the rest of the table setting
As a factor of guidance, it is recommended to always start with the selection of plates, since those will dictate the motif of the tablecloth, silverware and centrepieces motif. The first plate to be chosen is the presentation plate. Depending on the occasion, presentation plates can either be used as a decorative item, in case the courses are to be served in the kitchen, or as the plate where the main course is served, if the course is placed in the middle of the table.
A set of white plates with minimal elements is a must for every household, thanks to their versatility in an abundance of combinations, and to the chic look they will provide to each table setting. Some exemplary pieces from Bernardaud would be Naxos, Écume and Origine, all of which will create a most eclectic result. A must for experimentation enthusiasts would be a mix and match approach, which can definitely result in a creative outcome.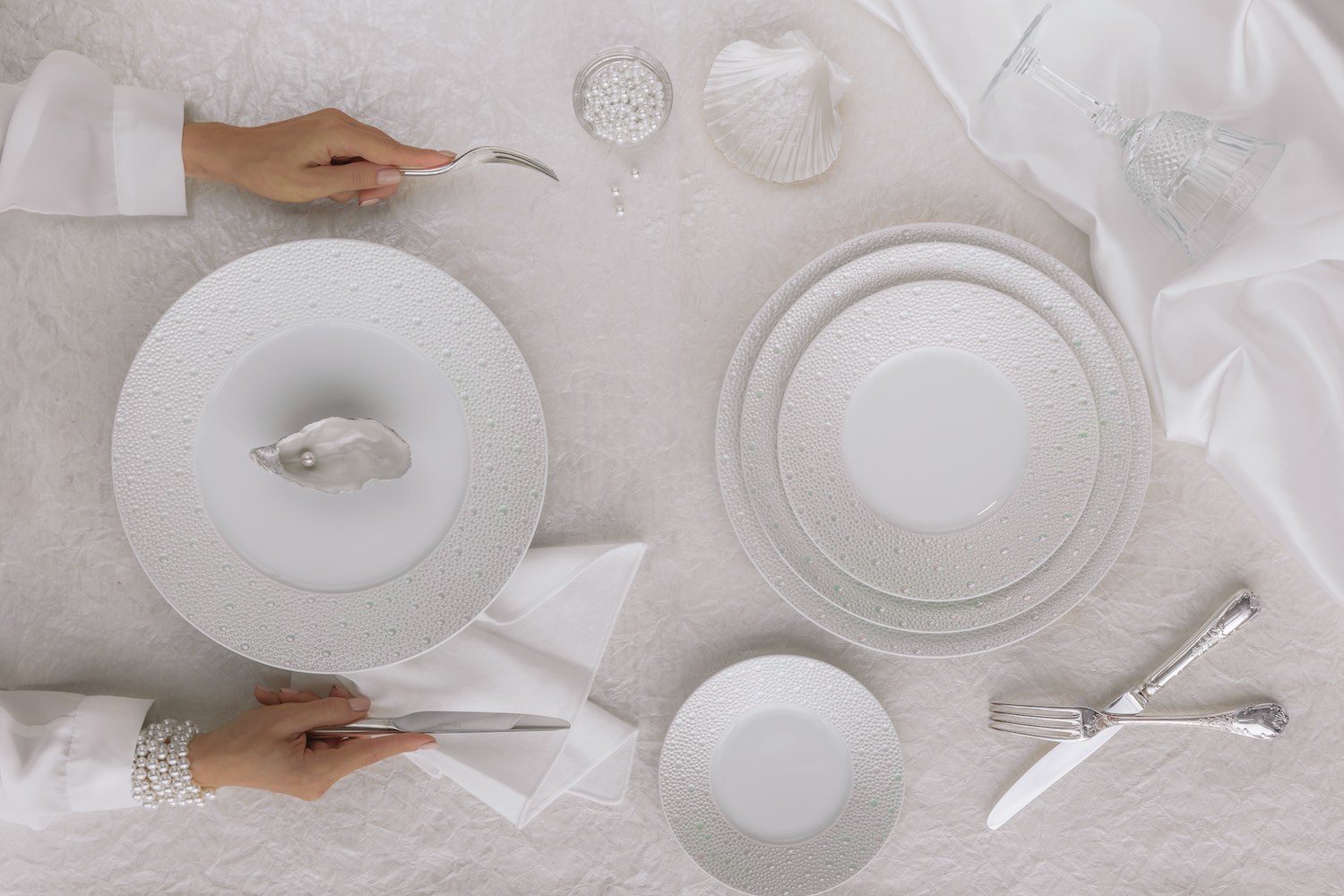 Choosing the right glassware
The most important rule to follow while choosing glassware, is to ensure that the glasses are completely flawless, by checking for any cracks or marks. While one must always integrate both water and wine glasses to their table setting, celebratory occasions usually require the presence of champagne glasses, too.
An incredibly easy way to add a more special touch to the table setting is the addition of coloured glasses, such as the ones of Bubbles collection from Saint Louis. It is important to note, however, that coloured glasses are exclusively used for either white wine or water. If a meal is paired with a red or a rosé, however, it is not necessary to limit our creativity. We can, instead, combine glasses of different motifs, as long as they are not decorated with different engravings.
Silverware: selection and placement
As with all parts of a table setting, we must always ensure that silverware is perfectly clean and polished prior to placing it on the table. Depending on the occasion, the placing of the silverware may vary. For instance, in a non-formal occasion, it is not necessary to comply with the rules of mise en place in their entirety. An example would be only using one set of silverware for both the entrée and main course, as long as they do not blend different dishes, such as seafood and meat. That is to avoid a potential overlap of strong flavours.
Tableware experimentation
Even though they are usually an afterthought, decorations and centrepieces always play a major role in the table's final look, as they are significant in making each table setting look cohesive and harmonious. The most classic and timeless decorative item would of course be a floral arrangement placed in a vase. We always have to choose flowers that are ideally seasonal and do not clash with the tableware and tablecloth's designs and colours. It is also important that the flowers are scentless so as to not interfere with the meal's aromas. The most important rule, however, is to never use fake flowers.
Another important element is the vase in which the flowers will be placed. Vases are not only supposed to match with the flowers, but also to blend harmoniously with the table's motif. For example, in a formal dinner, a vase with a more bold pattern and unique pattern, such as Aux Oiseaux by Bernadaud, would be an excellent option – provided that its colours do not interfere with the rest of the tableware's pattern. In that case, a less extravagant choice like Legende vase would guarantee a great result.
Moreover, hosts must make sure that the centrepieces do not take up a big space on the table, not only to prevent the table from feeling stifling, but also to not obscure the guests' mingling.
Choosing to adapt the table's decoration to the dinner's ethnic origins may also become a great source of inspiration. An acceptable choice for a dinner with Asian tastes, for instance, would be a combination of a minimal vase with an assortment of lithophanies.
Even though following the rules and customs of Art de la Table is immensely important, do not hesitate to dive into experimentation that can harmoniously reflect your personal taste. Art de la Table can be a creative outlet for hosts to express their personal aesthetic, and to transform every occasion into a unique experience for every guest.