Modern, Asian-inspired table art
Vlasis Kosmas
Table art is not one-dimensional. It is versatile, and subject to the particularities of each occasion. With the right guidance, table art can truly transform every dinner table, dressing it in each theme's unique character.
Asian inspiration ranks among the most popular dinner themes, with plates such as sushi, noodles, pad thai, pho, and ramen stand out on the dinner table, adding the essential notes of elegance and high aesthetics.
With luxurious creations, emphasis on minimalism, and a great tradition in the art of porcelain, an Asian-inspired dinner must be accompanied by the right luxurious tableware, thus highlighting the very soul of Asian culture.
Essential dinnerware
According to Table Art, a selection of proper dinnerware which perfectly embodies Asian culture's minimalist design is extremely important for every table setting, in which Asian flavours prevail. A neutral-coloured dinnerware set will allow you to strive for outstanding mixing and matching, while simultaneously maintaining evident hints of minimalism. An ideal choice would be Kintsugi Sarkis, whose plain design blends wonderfully with a wide variety of plates with golden details, such as the Vegetal Or collection, whose salad plate would be a great addition to the table. Should the dinner include ramen or pho, the table setting would not be complete without a soup plate.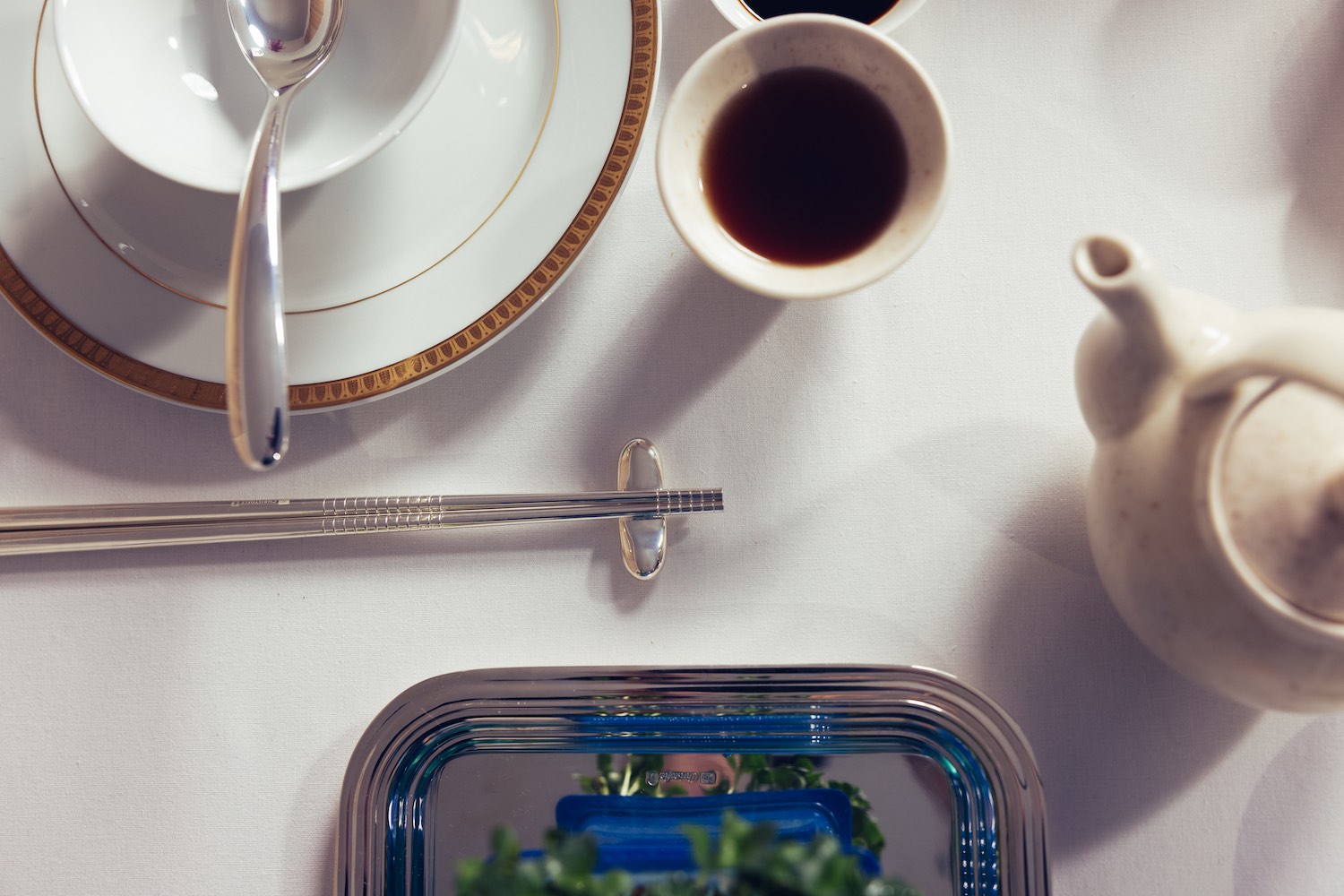 The ideal centerpiece
Table Art encourages the use of centerpieces as the undisputed protagonist of every elegant table setting, regardless if formal or contemporary. You may choose between centerpieces whose colours perfectly match with the aforementioned dinnerwares' ones, such as the Kintsugi Sarkis or the Écume vases. Another excellent choice would be Mood Asia, an Asian culture-infused version of Christofle's magnum opus, or even a decoration assortment with various lithophanies from Bernardaud all across the dinner table. In case the table is particularly large, integrating different centerpieces is also an option, provided that they harmoniously complement one another and blend in with the rest of the tableware.
Chopsticks and sauce bowls
It is essential to place separate sauce bowls for each guest, choosing between the Aux Oiseaux, and Constance collections, among several others. Guests should also have their own sets of chopsticks, which are either placed over the plate, or on its right side. In case Mood Asia's chopsticks do not match with the table's decor, our recommendation would be UNI by Christofle, available in white, black and red colour.
Crystal glassware
Another particularity of Asian gastronomy, compared to other ethnic cuisines, would be sake. Aside from thoroughly choosing your table's water and wine glasses, if the dinner is accompanied by sake, then you should meticulously select the proper glassware. Sake is served in a shot glass, one that is not too small-sized – some examples from Saint Louis luxurious crystalware collections would be none other than Manhattan,  Tommy, and, last but not least, Folia, which makes the perfect choice.
Touches of Asian inspiration
To align our table setting to the many particularities of Asian cuisine is a point that should definitely not be dismissed. For instance, as sushi does not come served on the plates, it is important to provide the dinner table with enough space for the sushi platters – always maintaining choices of neutral colours, such as Cristal. Additionally, should an entrée such as rice, seaweed salad or edamame beans be served prior to the main dish, integrating the table with Bernardaud's cereal bowls will magnify the result. Some great minimal options would be Naxos and Écume Perle, while the Empereur Rouge cereal bowl is an ideal choice that adds a colourful touch to the table setting.